While this principal obviously applies to physical locations of businesses, location based search applications is one of the more important and under-appreciated trends in web searches today.
As we become more mobile, our devices have become more aware of their location and search engines like Google, Yahoo, and Bing have begun gathering data to help their customers find things in a given location.
For example If I am looking for a bike shop in Fort Worth, I may type into Google, "bicycle shop, fort worth, tx." I will be given the organic results like all searches have returned for years. Google will also return a list of businesses in Fort Worth that it feels are relevant to my search, all listed on a map of the area so that I can see where they are. This is great and I can be taken to information about the bike shop that is right down the street!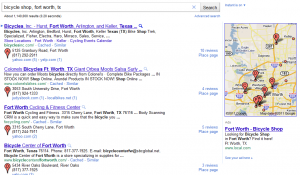 For new businesses or businesses new to location-based marketing, the first question is how does a business get listed on applications like this?
In many cases a previous customer could have entered you into the system but in others there will be no record of your business. In this instance it is up to you to create it. For more information on listing your business on the big three search engines theres Google Places, Yahoo! Local Listings, and Bing Local Listing Center. Listings for these are simple to set up and all are free!
The second questions is what determines who is displayed at the top of that list?
There are many things that go into placement under the location based result. For example, Google uses descriptions, pictures, contact information but what is really important are reviews from customers. Google will crawl the web and find reviews from various review websites that it understands are for your business and then list them on the "Local Business Page."
These are just a few of the items to monitor as you list your business online but every little bit helps people make the decision to spend money with you.